December 2, 2019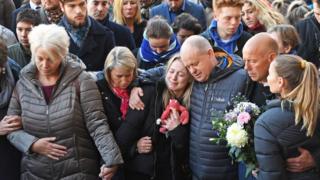 Vigils for the victims of the London Bridge attack have been held in London and Cambridge.
Jack Merritt, 25, and Saskia Jones, 23, were commemorated in a service at Guildhall Yard in the City of London.
They were stabbed to death by convicted terrorist Usman Khan, 28, at a prisoner rehabilitation conference on Friday.
Mr Merritt's family were at a service and minute's silence in Cambridge, where the city's mayor Gerri Bird led tributes outside the Guildhall.
Mr Merritt and Ms Jones were both University of Cambridge graduates, and had been attending an event for the university's Learning Together programme – which focuses on prisoner rehabilitation – when they were attacked.
The services came as more details emerged of how people at the conference tried to keep the attacker at bay with makeshift weapons.
Prime Minister Boris Johnson, Labour leader Jeremy Corbyn and the Mayor of London Sadiq Khan were among those attending the vigil in the capital, which also included a minute's silence.
In an address, Mr Khan said London will never be cowed or intimated by terrorism.
He said: "The best way to defeat this hatred is not by turning on one another, but it's by focussing on the values that bind us, to take hope from the heroism of ordinary Londoners and our emergency services who ran towards danger, risking their lives to help people they didn't even know."
A book of condolences is open at Guildhall Art Gallery and members of the public are invited to lay flowers outside nearby Mansion House.
The service happened less than a mile from Fishmongers' Hall, where Usman Khan launched his attack on Friday.
Khan, who was released from prison in December 2018 after serving half of his sentence, was later shot dead by police on London Bridge.
The victims' families have paid tribute to their loved ones.
Ms Jones' family said their daughter, from Stratford-upon-Avon in Warwickshire, had a "great passion" for supporting victims of criminal justice.
"Saskia was a funny, kind, positive influence at the centre of many people's lives," the family statement read.
"She had a wonderful sense of mischievous fun and was generous to the point of always wanting to see the best in all people."
In a statement, Mr Merritt's family described him as a "talented boy" who "died doing what he loved".
"We know Jack would not want this terrible, isolated incident to be used as a pretext by the government for introducing even more draconian sentences on prisoners, or for detaining people in prison for longer than necessary," the statement read.
Cambridge University's vice-chancellor said he was "devastated to learn that among the victims were staff and alumni".
Prof Stephen J Toope said the fact Mr Merritt was killed by someone he was trying to help "is the greatest tragedy of all".
"I have profound sadness for the family," he added.
London Bridge itself, which was cordoned off for most of the weekend to allow forensic work to be carried out, has been reopened to traffic, although there remains a heavy police presence in the area.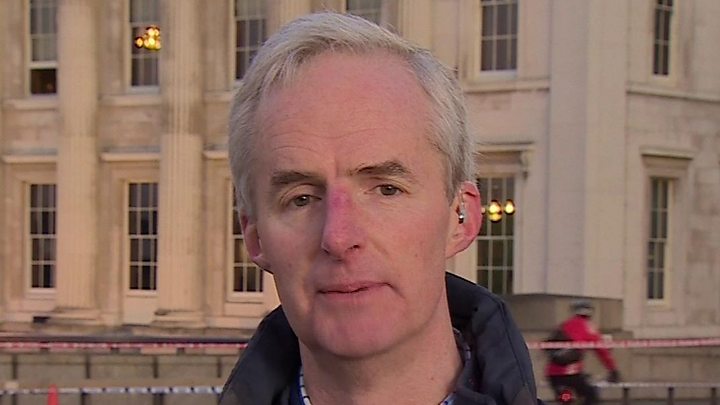 Toby Williamson, chief executive of Fishmongers' Hall, praised the bravery of his staff who intervened to stop the attacker, hailing their actions as "extraordinary things done by ordinary people".
Among them was Polish chef Lucasz, who was working as a glass cleaner in the basement of the hall.
Mr Williamson told how Lucasz suffered five wounds to his left-hand side as he fended off the knifeman with a narwhal tusk during "about a minute of one-on-one straight combat" – allowing others time to escape danger.
Two others grabbed makeshift weapons such as fire extinguisher before the attacker fled down a staircase and then got trapped in reception.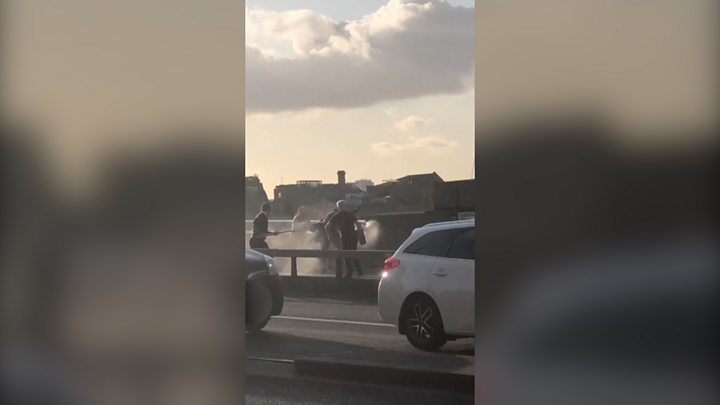 Flower tributes were placed near the bridge, with one reading: ""I love you forever I am so proud of you."
Another dedicated to victim Jack Merritt read: "Rest in peace Jack. You were a wonderful friend to us."
Dr Vin Diwaker, medical director for the NHS in London, said two people injured in the attack remained in a stable condition in hospital, while one had been able to return home.
The prime minister said on Sunday that 74 people jailed for terror offences and released early will have their licence conditions reviewed.
Later that day, Staffordshire Police said a 34-year-old man had been arrested on suspicion of preparation of terrorist acts – but added there was no information to suggest the man was involved in the London Bridge attack.
Friday's attack comes after the UK's terrorism threat level was downgraded on 4 November from "severe" to "substantial", meaning that attacks were thought to be "likely" rather than "highly likely".
The terror threat level is reviewed every six months by the Joint Terrorism Analysis Centre, which makes recommendations independent of government.
Eight people died and 48 were injured by three men who drove into pedestrians, then stabbed people in Borough Market, in London Bridge in 2017.